Recommend a friend promotions can be super effective marketing tools, today I'm unpicking the Abel & Cole free vegetable box card that a friend gave me.
How do recommend a friend promotions work?
A loyal customer can be your biggest fan and best promotional tool – think about it, if you're looking for a new restaurant to go to who do you ask? Your friend or perhaps a review site or do you just stick a pin in the internet and take your chances?
Recommend a friend promotions harness the power of word of mouth recommendation into a formal client acquisition proposition where you simply ask your existing customers to recommend you to their friends. These schemes often include an incentive for either the new customer or recommending customer, or both.
Client get client marketing can be a very cost effective way to recruit loyal customers – the thinking being that your existing customer base not only understands your business and its benefit to them, but their friends will be a similar type of person to them – ie your ideal customer knows more of your ideal customers!
Abel & Cole offer a free vegetable box to new customers who sign up via their recommend a friend scheme, here's my take on their promotion.
How it works:
Existing customers receive a postcard to give to a friend which entitles the friend to a free Abel & Cole vegetable box.
The ordering process:
The customer has to create an online account. This forces a prospective customer to become an active customer and acts as a data gathering exercise.
After the free box the customer is automatically put on the paid delivery. This plays on customer inertia – once they are signed up it is more hassle to cancel an order than it is to keep receiving them.
There is a code for a free cookbook and 4th free vegetable box on the information page. An immediate reward and loyalty reward, incentivising the potential customer to complete the online sign up process.
Minimum order is £12.50 so you have to select a minimum spend that suits them regardless of how much you want to spend. A simple exercising in up-selling, the cheapest box is less than the minimum delivery charge so even if you only want the smallest box you always have to spend more to qualify for delivery.
Delivery is also free on the first box. This is an added incentive and also minimises the customer's awareness of future delivery fees.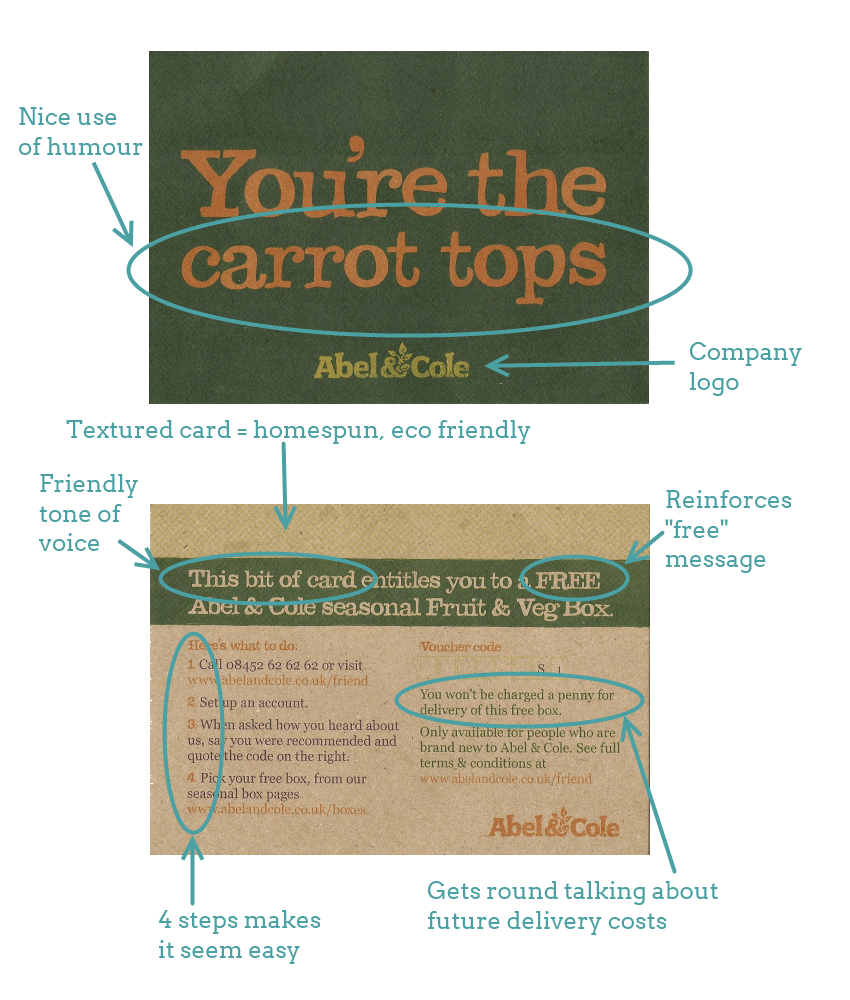 The design and copy elements:
The card is textured card stock which gives earthy, wholesome, recycled feel  thatreinforces the eco positioning of the business.
Relaxed type font – gives an informal, approachable feel.
"You're the carrot tops" the use of humour and reference to products giving a friendly feeling.
"This bit of card entitles you to a FREE Abel and Cole seasonal Fruit & Veg Box." Informal, friendly language along with the use of company name to reinforce the brand. The capitalisation of "FREE" draws the eye and reinforces the free message.
Four bullet points walk you through the process, which is reinforced online. There is also a phone alternative.  This makes the process seem easy and accessible.
"You wont be charged a penny for delivery of this free box" This reinforces the "free" message without mentioning the ongoing delivery charges.
Voucher code  for campaign tracking so they can see how the campaign is performance in terms of new client acquisition as well as looking at longer term behaviours such as how long customers stay with the company, how much they spend and so on. If customers recruited this way act differently to customers recruited via other methods the company can tailor ongoing marketing to reflect that difference.
If the voucher code is specific to the customer doing the recommending the company can also be used to track and reward existing customers when they inspire a sign up.
My opinion:
A well devised piece of recommend a friend marketing that moves the customer from the postcard to the website easily and incorporates the power of direct conversation into the process.
The design elements reflect those on the website and work to reinforce the branding and company positioning and the wording works to support the key messages of the service being friendly and easy to use.
The primary offer is good value and with the additional online offers of a free cookbook and an additional free box on the fourth order it represents a great financial incentive.
Did it work?
Not for me, I didn't sign up simply because their products aren't good value for my family. If they were I would have take up the offer.
How to use recommend a friend promotions to boost sales in your business today
The most simple recommend a friend promotion is a discount offered to your existing customer list for them to share with their friends, all it takes is 2 simple steps:
Set up a voucher code for a free or discounted product or service.
Email your active customer list with details of the voucher code asking them to share it with their friends.
Don't forget to come back and tell me how you got on!