Recently a client asked me whether they should use an automated blog writing service.
Obviously, I'm biased because having worked as a freelance copywriter one of the services I provided was blog writing services, but let's dig into if you should or shouldn't use these services for your business website.
Automated blog writing services from big SEO or content companies can seem amazing value – $50 for a 500-word blog post, but are they worth it?
If you are keen to get content onto your site quickly, you are low on time, you have some budget and your business is in a fairly mainstream sector then it could be a way to get a jump start on your content.
If your business is in a more niche sector, you have high-value products or very personal relationships with your customers, I'd say no. Using generic copy will run the risk of damaging your brand and customer relationships.
You have a unique voice, make sure that it comes through in your copy.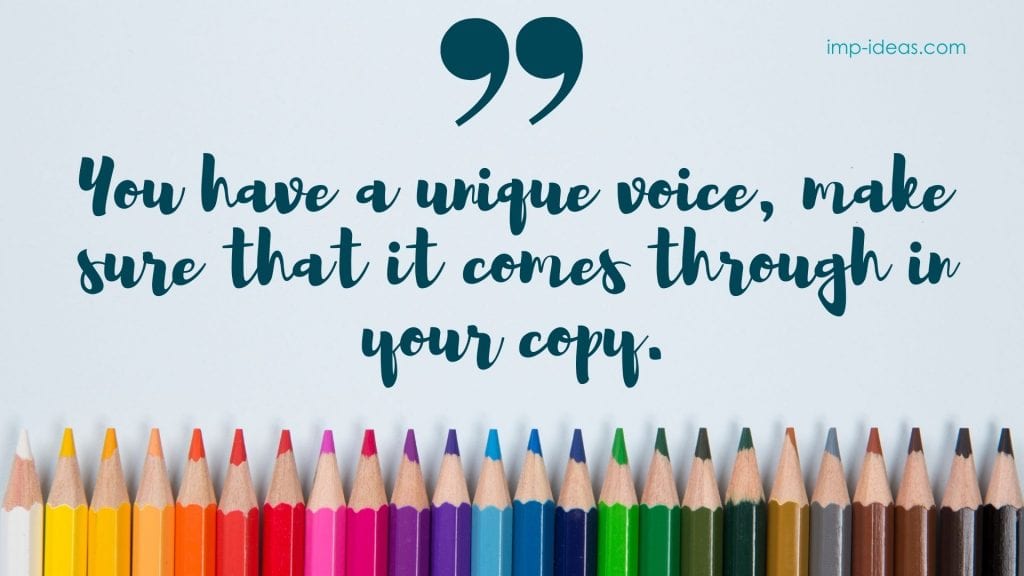 Here are six things to consider when choosing between a freelance copywriter or a low-cost copywriting service
Quality of content
Companies that offer a low-cost content service will outsource to low paid writers who are churning through a high volume of orders.
Working with a freelancer that can get to know you and your business means that they can get to know the tone of voice of your business and write in your style.
Relationship with your business
You may not have a direct relationship with the writer or writers that are working on your project. A freelance copywriter will get to know your business and sector, they'll work to understand your client base and what's important to them.
Developing content ideas for your business
With an outsourced, low-cost content farm you'll have to come up with the ideas for your blog posts and newsletter. Freelancers that work directly with you will get to know your business and be able to suggest ideas for content that fits with your business development.
For example, one of my e-commerce clients was having high sales with a particular product, so I developed a series of blog posts, automated email campaigns and newsletter content that would help to promote that product even more.
Depth of understanding of your business
If you're using a specialist in your sector they'll have a greater understanding of what's going on in your industry than someone that's being paid to churn out content for pennies per hour.
My work in the adult industry means that I have a wealth of knowledge, connections and insight to bring to the copywriting and marketing that I did for my sex toy marketing clients.
All my clients, whatever their sector, benefit from my knowledge and experience built up from years of working with a wide range of clients across different industries.
You'll still be doing a lot of admin
Outsourced content marketplaces will create and send you the copy you've requested, but you'll still need to add it to your website, add the SEO content, find images and so on.
I have experience of Wordpres, Shopify and Squarespace content management systems, which means that I can write, upload and publish your content directly to your site. I can also integrate it into the rest of your marketing strategy with social media updates and newsletter content that promotes your article or blog. This kind of in-depth fully supported service means that you have less admin to do and more time to work in your business.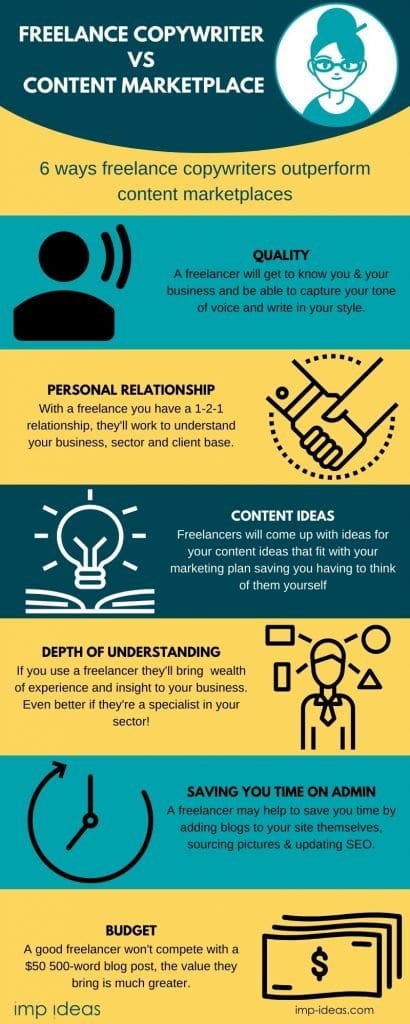 Budget
I'll be honest here, I can't compete with a content writing service that is offering blog posts at $50 or less.
That's not what I do nor do I want to.
I work to build relationships with clients, to understand them and what's going on in their business so that I can then create marketing that captures their unique voice and tells their story in a way that connects to their customers and helps build their business.
This in-depth, detailed work delivers more and so costs more. Good copywriting and marketing experts charge their worth because they know the difference they can make to a business.
So, to answer my clients, and your question –
"Should I outsource blogs to a content writing service or use an expert freelance copywriter?"
If you're short on time, short on budget and not fussed on quality – content marketplaces and low-cost content writing services can be an option. See this link for a visual summary of this advice.
If you want copy and content that represents your business appropriately, connects with your costumers and fits with your marketing goals – building a relationship with a copywriting freelancer or outsourced marketing expert wins every time.
Find out more about how I can help your business reach it's sales and marketing goals with copywriting and content marketing pop your details in the box below or book a call into my diary.